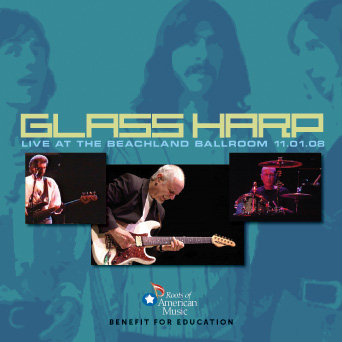 We're proud to finally make available one of Glass Harp's
most talked about concerts in years.

This show was recorded at Cleveland's Beachland Ballroom
on November 1, 2008, where Glass Harp headlined a benefit
concert for Roots of American Music an organization
dedicated to the preservation, performance and
education about traditional American music in our schools.

This CD finally captures the raw, improvisational energy and
spur-of the-moment creativity that has defined Glass Harp
for decades, but until now has been heard only in a live
setting and in the memories of the people who saw it.

Here, classic songs take on entirely new guises, free jams
spur flurries of ideas, and around every corner awaits a new
surprise for even the closest follower of Glass Harp's
concerts and recorded output.

If there were ever a collection of Glass Harp music that one
might compile for friends, new listeners, or fans of inspired musicianship in general, look no further than this CD.
As Daniel Pecchio points out: "This...is finally *us*"

The Rock Hall Blog
Jim Henke's blog about Glass Harp & the Beachland Ballroom CD