1997
GLASS HARP: THAT OLD MAGIC, AGAIN
FREE TIMES
BY ANASTASIA PANTSIOS
The story of Youngstown's Glass Harp contains enough myth and romance and unfulfilled promise to make a classic rock and roll film, with its wistful, paradise-denied quality. These early blooming darlings took northeast Ohio by ,storm in the early '70s. They put out three major label albums, enjoying critical praise and regional success before disbanding just when they seemed poised for a stellar career, when guitarist Phil Keaggy's Christianity caused him to retreat from the secular world.
Glass Harp were one of the most original bands ever to emerge from this area. They've been less recognized by Cleveland rock historians than some other bands, partly because they disbanded before attaining substantial commercial success and partly because their music didn't fit into the context of any 'scene." Compared to Pere Ubu, who had an exact set of disciples, Glass Harp's influence is so underrated because it was fragmented and went in many directions, such as con- temporary Christian music and solo guitar, which lacked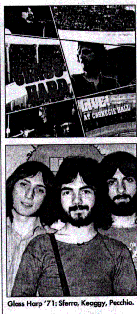 underground cache.
Formed in Youngstown the fall of 1968 by two teenage schoolmates, drummer John Sferra and guitarist Philip Keaggy, the classic Harp lineup solidified a year later when they added bassist Daniel Pecchio. They established themselves with regular shows at the legendary JB's in Kent, where many insisted they outdazzled the more experienced James Gang. Soon they became one of the few Youngstown bands ever to amass a strong fan base in Cleveland, since the Youngstown scene has always been more connected to Pittsburgh. Almost every weekend they played a high school or club in the Cleveland area, wowing audiences with all. original sets of lyrical.improvisatory tunes that often reached dizzyingly ecstatic heights - and lengths.
Glass Harp signed to Decca in 1970 and released three albums in a year and a half: their self-titled debut, Synergy and It Makes Me Glad. But by the time It Makes Me Glad hit the streets in the summer of 1972, Keaggy's conflicts about playing Christian music in a secular environment had over- whelmed him.To no one's great surprise, he left the band in August 1972. They replaced him and limped through to the end of 1973, but the instinctive, spontaneous communication between the players that made the music possible was gone.
Dan Pecchio went on to co-found the Michael Stanley Band, while John Sferra played (and continues to play) with a succession of bands from the Great Lakes Band to the Motion, In late 1995, he released a solo CD titled Northbound. Keaggy, now living in Nashville, became a well-known contemporary Christian recording artist, who has made twenty years' worth of pleasant soft rock records that rarely challenge his talents. In the last few years, Sferra and Keaggy have been playing together again, contributing to each other's recordings, with Sferra doing some live dates with Keaggy.
Though Keaggy's Christian isolationism caused hurt feelings immediately after the breakup, the trio remained friendly. They've reunited occasionally for shows that are always well-attended; their last, at the Akron Civic Theater in 1989, sold out. Their three Decca albums are available as European import CDs, and there has long been talk of putting out a CD of, their made by Pecchio's then father-in-law from the board mix. About two years ago, Sferra and Pecchio heard from Keaggy's Christian label, Nashville-based Sparrow Records, that they were negotiating to buy the rights from Merenstein at Keaggy' s urging. But just as Keaggy finished mixing the tape, Sparrow pulled the plug.
Pecchio recalls, "Phil felt bad. I told him, John did his own CD, my son's band [Funkomaticl just did one; it's not the big deal it used to be. Let's put it out our-selves.' They were gearing up to do that when John Schroeter of Colorado's Canis Major Records entered the picture. Schroeter had done an acoustic album and a newsletter for Keaggy and the band liked the way he put his projects together. Pecchio says, 'Does Canis Major have deep pockets? No. But this doesn't have to sell in the next three weeks to maintain interest. We've always maintained some sense of support' by fans. Glass Harp's albums are still selling at list price in the import bin; they've never been in the cutout bin.'
The new/old CD ' is haunting and strange for an old fan to listen to. In some ways, it's an artifact of its era, What young group today, opening to a well-known act like the Kinks, would fill its 45 minutes with a mere five songs, one lastig nearly 29 minutes? It would be suicide. But those were different times. Even within the con-text of the times, however, Glass Harp stood out.
Many bands did long boogie/blues jams, but Glass Harp's explorations were more spacious and unpredictable. They had an affinity for the progressive rock of the time, but they lacked the melodramatic quality of contemporaries like Emerson Lake and Palmer, King Crimson and Yes (though they shared that fan base). They were also more distinctly pop-based. Their closest parallel was probably Traffic, a band that took the Beatles' pop structures and airy pop feel, broke it up and rearranged the pieces in a crazy quilt way, Glass Harp did something similar. And, with Keaggy's unique 'violin' guitar sound created by using the volume control knob on his Gibson Leg Paul and Pecchio's ambling flute solos, the band had a folk feel that didn't belong to an identifiable folk tradition. Lavish streams of melody, driving rhythms, light, boyish vocals, the juxtaposition of electric and acoustic elements added to their special sound.
Despite their meandering, experimental sound, Glass Harp was embraced by local audiences and media, much as the more conventional Michael Stanley Band was later. They were strongly supported by the two local rock stations, WNCR and WMMS, and were featured on a TV special on WVIZ (Channel 25) in February, 1972, Playing no covers, they filled clubs with loyal, enthusiastic fans. They got away with it because they were, briefly, touched by magic. The new CD brings back some of that feeling.

---
More press releases from the 70's
Glass Harp shines...
Six Teen Magazine
Back to Main Page